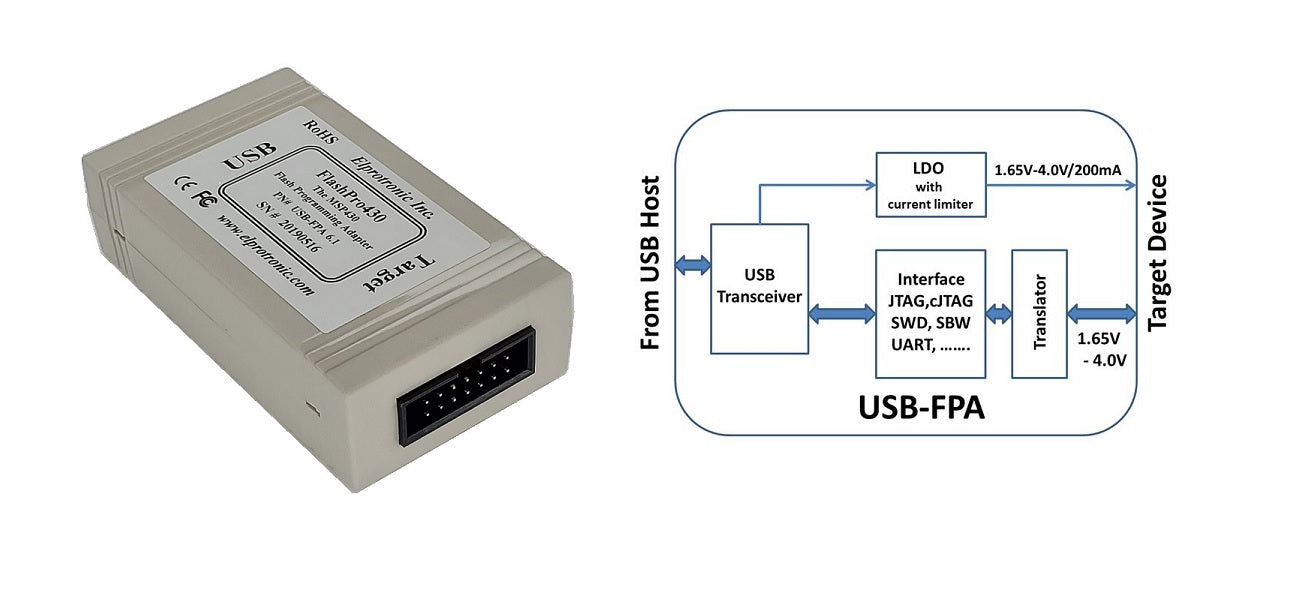 USB-FPA adapter
Cost-effective and reliable. Full MCU programming support, albeit at slower speeds than XStream-Iso or XStreamPro-Iso. USB connectivity.
Supports JTAG, SBW, and BSL communication (MSP430).

Supports debug interface communication (Chipcon).
Supports JTAG, and SCI-BOOT communication (C2000).
USB connectivity.   
Up to 64 programmers can be connected over USB to one PC.

Windows

(TM) XP, 7, 8, 10, 11.
Easy to use GUI allows the user to configure all necessary options with ease (Windows only).
Extensive Memory options including select erase, program, verify. Select flash data can be retained across programming sequences.
Supports full/segment erase, blank check, write and verify of code using one Auto Program function or separate functions for easy customization.
---
DLL and Command-Line support (Windows).
C++ and C# code examples provided.
FCC and CE certified.
---
---
Adapter MCU supported list (follow links to find vendor specific variation):
Original price

$339.00

-

Original price

$339.00

| /

Elprotronic Inc.

Main Product Features (Software Features and Details Page) : Embedded Flash programmer. USB-FPA hardware adapter runs with FlashPro-430 software....

View full details

Original price

$339.00

-

Original price

$339.00

| /

Original price

$339.00

-

Original price

$339.00

| /

Elprotronic Inc.

Main Product Features (Software Features and Details Page) : Embedded Flash programmer. USB-FPA hardware adapter runs with FlashPro-2000 software...

View full details

Original price

$339.00

-

Original price

$339.00

| /