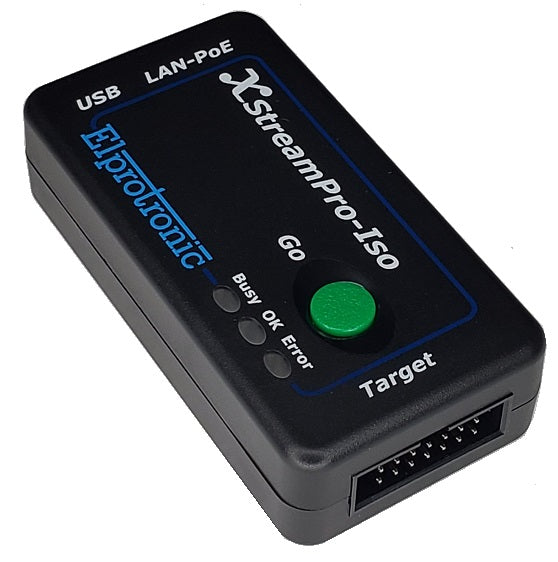 Need help with your purchase?
FlashPro-CC (X2S)
Original price
$669.00
-
Original price
$669.00
Free shipping on orders from $400
Embedded Flash programmer. XStreamPro-Iso hardware adapter runs with FlashPro-CC software and FlashPro-ARM (TI-CC vendor only) software.
Programs Texas Instruments SimpleLink (CC).
Supports debug interface communication to MCU. 
Programmable communication clock up to 20 MHz, effective throughput up to 1 MBytes/s.
Ethernet and USB connectivity.   

Power supply from adapter available, up to 200 mA.

Deep-Sleep mode current measurement from

 

5 nA to 200 mA.   
Customizable Vcc from 1.2 to 4.0V.
Built-in galvanic isolation between PC and targets.
CMSIS-DAP 2.0 ARM Debugger included (IAR EWARM, Keil uVision, etc. debugging support).

 

Debugger features.
Easy to use GUI runs on 

Windows(TM) XP, 7, 8, 10.

DLL and Command-Line support

(Windows)

.
C++, C#, Python code examples provided.
Download installer for:

 

Windows
Package contains:
XStreamPro-Iso 1.2 programming adapter,

USB cable,

FPA to ARM 14-pin to 20-pin adapter and ribbon cable,

FPA to CC-Debug 14-pin to 10-pin adapter and ribbon cable,

One Year Warranty,

Unlimited time software usage license, no limit on number of programmed devices,

No code size limitations,

One Year free software updates,

Software Update License Renewal is optional (only needed for updates to run newer software version after one year).  Already used software version will run indefinitely, with no need for license renewal.
Warranty and Refund & Return Policy:
Need help with your purchase?